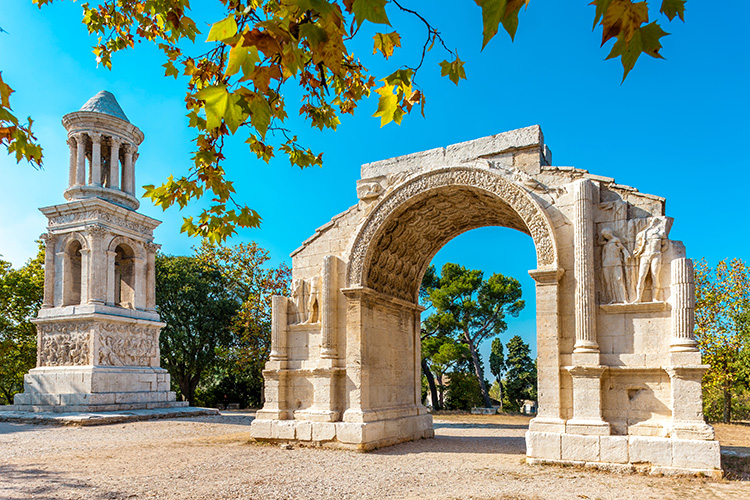 About Glanum
Glanum was a thriving Ancient Roman settlement, the impressive remains of which can now be seen in an archaeological site near Saint-Rémy-de-Provence.
Whilst there is some evidence to show that this site has been occupied since the first millennium BC, most of the sites at Glanum date back to between 20 BC and the second century AD, when it was under Roman rule.
The oldest main structure at Glanum is a sanctuary and fortification probably built in the sixth century BC. Found at the southern edge of the site, this would have predated the Roman settlement and is thought to have been dedicated to a deity known as Glanis.
The archaeological site at Glanum has both residential and monumental sections. Public baths and dwellings can be seen in the north of site with several ancient columns dotted around the area. However, it is two of its ancient monuments which form the star attractions at Glanum, namely its archway and its mausoleum known together as "Les Antiques".
The arch is a well-preserved triumphal arch thought by some to have been constructed during the reign of the Emperor Augustus (27 BC–14 AD). It depicts the Roman victory over Gaul. Meanwhile the Mausoleum of Glanus, known as Mausolée des Jules and thought to date back to as early as 30 BC, is a remarkable 18 metre-high private family memorial resplendent with friezes and columns.
Featured In