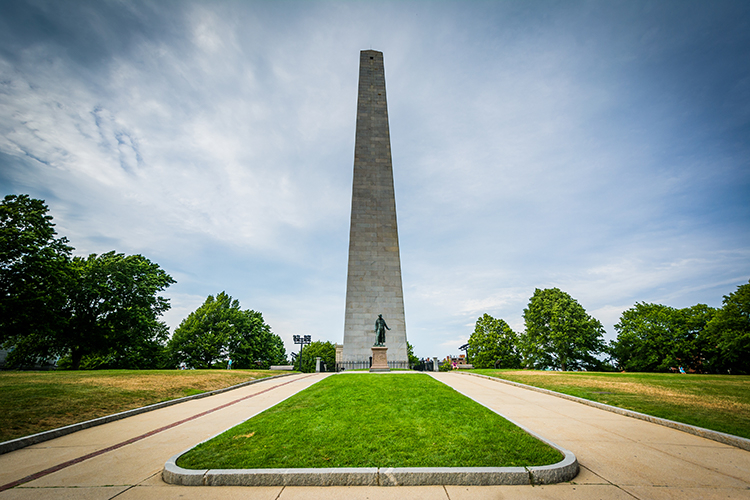 About Bunker Hill Monument
The Bunker Hill Monument is a memorial of the Battle of Bunker Hill, which took place on 17 June 1775 between the British army and the militias of Massachusetts, Connecticut, New Hampshire, and Rhode Island early in the American Revolution.
Bunker Hill Monument history
The Battle of Bunker Hill occurred just a few months after the start of the American Revolutionary War. The British knew the value of Boston and the strategic importance of its seaport, hence why it was besieged in April, 1775.
Having heard that the British were keen to hold Bunker and Breed's Hill, the American militias had rushed to fortify the hilltop area overnight, eventually forcing the British army to launch multiple, costly offensives in order to recapture the Hill.
The British army was far more well equipped and trained than the American militias, however, the famous order of "Don't fire until you see the whites of their eyes" attributed to an American colonialist at the Battle demonstrates the tenacity with which the American militias fought.
The Battle saw the British gain more ground than the American forces, however this was somewhat of a pyrrhic victory given that the British suffered over 1,000 casualties compared with approximately 500 American casualties.
The Monument today
Bunker Hill Monument sits atop Breed's Hill, on which most of the Battle of Bunker Hill was actually fought, however, the battle is named after the parties' objective goal, Bunker Hill.
Bunker Hill Monument is an obelisk standing 221 feet high which visitors can enter and even climb to the top for stunning views from its observation deck. The only thing is, there are around 270 steps and no lift/elevator. In front of the momument stands the statue of William Prescott, the leader of the American rebels.
The nearby Bunker Hill Museum offers a detailed insight into the war, the history of Charlestown and the monument itself, with numerous exhibits and artifacts. Both the Bunker Hill Monument and Museum form part of Boston's Freedom Trail. This site also features as one of our Top 10 Tourist Attractions in the USA.
Getting to Bunker Hill Monument
The Bunker Hill Monument is located at the end of the Freedom Trail. It is about a 15-minute walk from the Copp's Hill Burial Ground.
While you can walk to the Monument easily by following the Freedom Trail, the best way to get there is by using the MBTA Water Shuttle. It is a short boat ride over to Charlestown, and you can enjoy what amounts to a quick, scenic harbor cruise along the way. It costs just $3.25 (free if you have an MBTA Subway Pass).
The shuttle departs from Boston's Long Wharf (map) at the New England Aquarium and will whisk you over to Bunker Hill Monument in 10 minutes.
The Bunker Hill Monument is about a 5-minute walk from where the shuttle docks.
Featured In