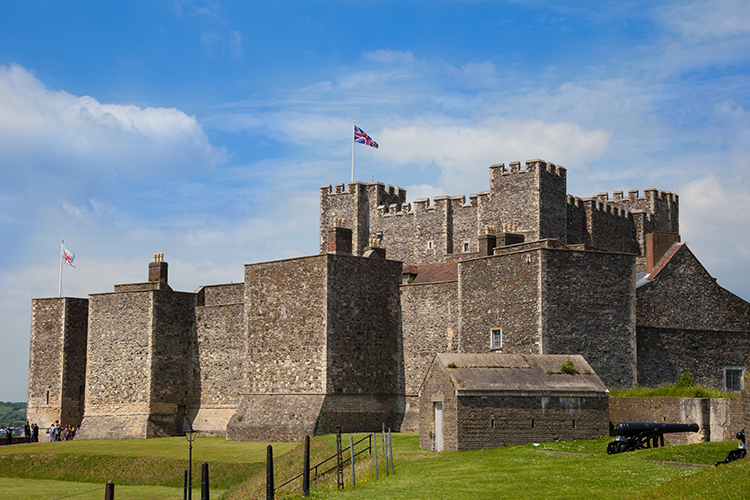 About Dover Castle
Dover Castle has been a vitally important fortress in English history, leading it to be known as 'the key to England'. Dover Castle's location is a central aspect of this history.
Perched high on the England's coastal white cliffs overlooking the shortest crossing between the island and mainland Europe, Dover Castle has been seen as the first line of defence from invasion. In fact, even before the castle was erected, Dover's cliffs were a popular site for building strongholds over the centuries with evidence dating back to the Iron Age. Two other such sites, an Ancient Roman lighthouse and an Anglo Saxon fort, are still visible nearby.
The first incarnation of Dover Castle was itself built in the eleventh century by William the Conqueror. Fresh from his victory at the 1066 Battle of Hastings, he built a castle of timber and earth. Over the centuries, Dover Castle would be improved, expanded and renovated, but throughout this time and until 1958 it would be continually garrisoned.
It was King Henry II who gave Dover Castle its recognizable form as a stone fortress in the twelfth and thirteenth centuries, with further adaptations being made over time to cope with ever changing threats. One of the most interesting parts of Dover Castle is its labyrinth of underground passages.
The Tunnels
Designed by William Twiss and constructed within the cliffs themselves in the eighteenth century, these underground tunnels and barracks were intended to defend Britain from a perceived threat of invasion during the Napoleonic Wars. Despite never being needed for this purpose, the tunnels have proved eminently useful in other endeavours, including as a headquarters in the fight against smuggling and, upon being adapted to become bomb-proof, as secret wartime tunnels during World War Two. Dover Castle's tunnels continued to play a military role and, in what is known as their finest hour, they formed a base during the Dunkirk evacuations in 1940.
Dover Castle Today
Today, Dover Castle is managed by English Heritage and is open to the public, providing a fascinating insight into the fortress's history. Visitors can explore the medieval castle and its underground tunnels, viewing numerous exhibitions which immerse them in the lives of Dover Castle's former inhabitants and tell its fascinating story. Much of this extremely well preserved castle has been restored to its original state or to show what it would have been like at different points in history, offering a truly authentic experience. Fans of ancient history can also view a well-preserved Roman lighthouse. Guided tours are available, some free, some at a charge.
Featured In