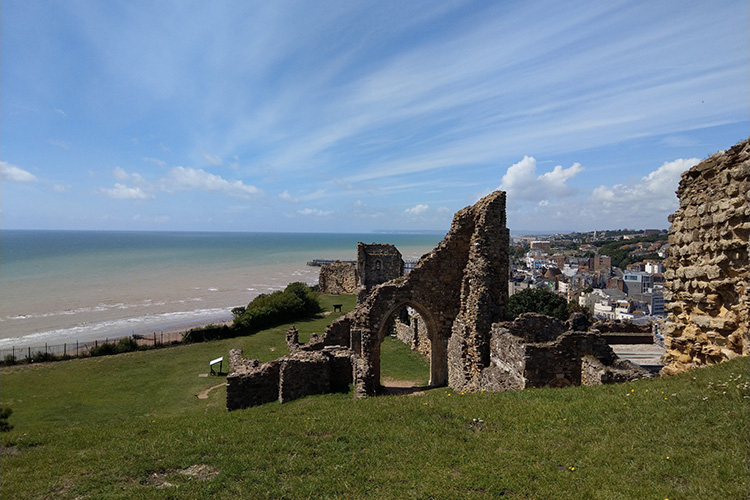 About Hastings Castle
Hastings Castle was originally built as a timber structure a short time after the Norman invader William the Conqueror landed in England in 1066. This was not far from the site where, shortly afterwards, William decisively defeated King Harold in one of the most significant battles in English history, the Battle of Hastings.
Having emerged victorious and achieved the conquest of England, William was crowned King William I on 25 December of that year. However, it was only in 1070 that the Norman king gave orders to transform Hastings Castle into a fully fledged stone fortified castle, the ruins of which can be seen there today.
Some parts of the structure were added later, notably the Church of St. Mary in the Castle, built by the Count of Eu, to whom William gave Hastings Castle. The Count of Eu would continue to hold Hastings Castle for most of the Norman period.
At one point, Hastings Castle was dismantled on the orders of King John, who feared it being taken by French Prince Dauphin Louis. Although rebuilt and refortified by Henry II in around 1220-5, Hastings Castle would not remain intact for long.
Battered by brutal winds in the thirteenth century, the area of Hastings suffered severe deterioration, with many tracts of land falling into the sea. Hastings Castle was no exception. Great segments of the castle were lost and, with the harbour having been destroyed too, it was abandoned. The only part of Hasting Castle that continued to function was its church, although this was disbanded during Henry VIII's dissolution of the monasteries.
Today, Hastings Castle is open to the public, who can tour its ruins and enjoy a short presentation on its history.
Featured In