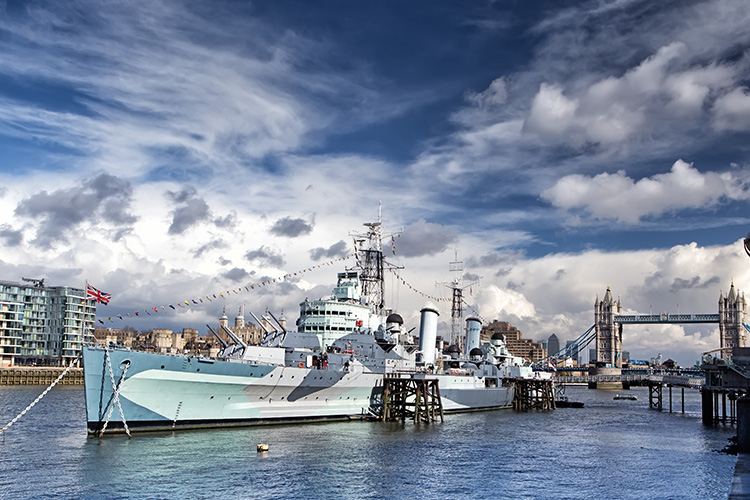 About HMS Belfast
HMS Belfast is a Royal Navy light cruiser ship that played a role in both World War II and the Korean War. It is now open to the public in London under the remit of the Imperial War Museum.
Launched in March 1938, HMS Belfast was commissioned by the Royal Navy in 1939, not long before the outbreak of World War II.
World War II
During the war, HMS Belfast took part in the blockade on Germany, patrolling northern waters from the Scapa Flow naval base in Orkney. Having managed to intercept SS Cap Norte – a German liner – in 1939, HMS Belfast was then severely damaged by a mine later that same year.
For almost three years, HMS Belfast would not sail as part of the fleet again, yet during this time, the ship was overhauled and massively upgraded. In fact, when she returned to the action in 1943, HMS Belfast was one of the Navy's most formidable vessels and certainly its largest. As such, she was designated the flagship of the Tenth Cruiser Squadron, which protected Arctic convoys travelling to the Soviet Union.
Some of the most important successes of HMS Belfast was its contribution to the sinking of the German battle cruiser Scharnhorst during the Battle of the North Cape in December 1943, its assistance in disabling the German's last heavy surface unit, Tirpitz, in 1944 and its part in 'Operation 'Neptune', the naval element of the Normandy Landings of D-Day, also in 1944.
End of World War II
At the end of and after the Second World War, HMS Belfast carried out several roles in the Far East, including helping to evacuate prisoners from internment camps and taking part in peace keeping missions.
Korean War And After
HMS Belfast's next wartime role would occur in the 1950s, during the Korean War, where she was one of the first ships to go into action to support American and South Korean Troops. This gruelling undertaking would end on 27 September 1952, after which HMS Belfast was involved in a few peacetime missions before finally being taken to London in 1971.
Featured In