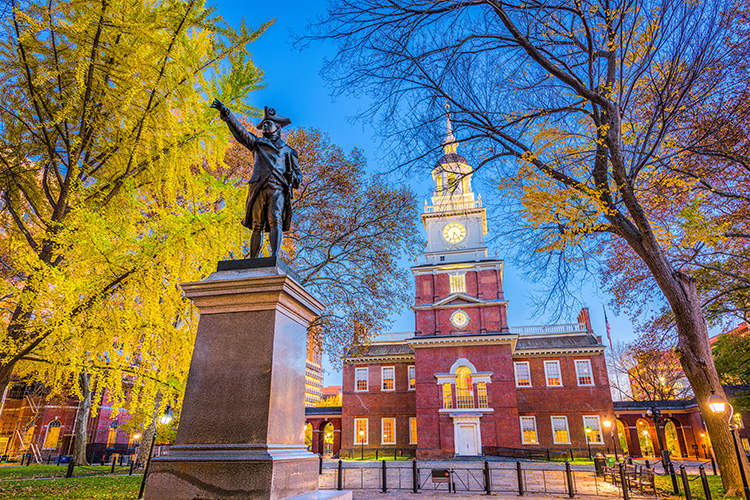 About Independence Hall – Philadelphia
Independence Hall in Philadelphia, Pennsylvania is one of the most important landmarks in US history, being the site where the nation declared independence from the Kingdom of Great Britain on 4 July 1776 by signing the Declaration of Independence.
Completed in 1753, Independence Hall served as Philadelphia's State House and the meeting place of the Second Continental Congress. Independence Hall was also the scene of debates and deliberations as to the Constitution of the United States as well the place where the Constitution was signed on 14 May 1787. Although the original copies of the Constitution and the Declaration of Independence are now both housed at the National Archives in Washington, visitors can still see the places where they were each signed.
Independence Hall is now part of Independence National Historical Park, which also encompasses a myriad of important sites such as Congress Hall and Liberty Bell Centre sprawled over 55 acres within the City of Philadelphia.
Visitors can choose from a variety of ranger guided walking tours as well as various indoor and outdoor activities. Across the road is the Liberty Bell Centre, housing the famous Liberty Bell, one of the most significant symbols of the American Civil War and formerly hung in Independence Hall's tower. Congress Hall is next door to Independence Hall.
This site features as one of our Top 10 Tourist Attractions in the United States.
Featured In