About Inveraray Jail
On the shore of Loch Fyne in Argyll sits Inveraray Jail, one of Scotland's top tourist attractions and one of Europe's most complete and best preserved 19th century courtroom and jail complexes.
The plans supplied for Inveraray Jail by Scottish architect James Gillespie Graham called for a courthouse and three prisons –for men, women and debtors – but money spoke and one was built to replace the old prison where conditions were horrendous and escapes were so common, the local townsfolk took turns to guard it at night.
Inveraray Jail was completed in 1820 and held men, women and children, both convicted and unconvicted, sane and insane in one block of eight dark, damp cells. Conditions remained grim until prison reforms in the late 1830s required the construction of a new, modern prison.
The new prison was designed to 'improve the character and maintain the health of its inmates'. All physically fit inmates worked for up to 10 hours a day in their cells making fishing nets and picking oakum from rope, only allowed out once a day to exercise or to use the loo.
An interesting fact about prison life is that hard labour (at Inveraray and elsewhere) included the pointless activity of turning a crank machine. Male prisoners had to turn it 14,400 times a day and warders could make it harder by tightening a screw, hence why prison guards are known as 'screws'.
Around 4,400 prisoners passed through Inveraray Jail in 69 years and escapes were rare (12 escapees, most were found relatively quickly) since the prison was in such a remote location.
As the town of Inveraray declined, largely due to the disappearance of the fish from the waters from the late 1870s, and with the emergence of much larger inner-city prisons like Barlinnie in Glasgow, Inveraray Jail closed its doors for the last time on 30th August 1889.
Today, the living museum features costumed prisoners and jailers who will regale you with gruesome stories of life at Inveraray Jail in the 19th century. Start at the horrifically-named Torture, Death & Damnation exhibition; walk the corridors of the old prison, meet the prisoners and hear their stories; experience the unbearable tension as sentences were passed in the grand courthouse and experience the new prison. Lie in the hammocks and on the wooden beds, get strapped to the whipping table and find out about the people who were imprisoned, some for stealing a turnip!
The living, breathing museum at Inveraray Jail is a fascinating, interactive and fun journey back in time to experience real prison life in 19th century Scotland.
Featured In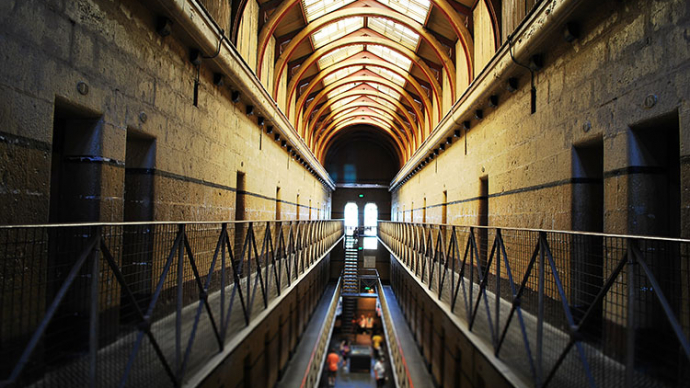 Discover the the most famous prisons in the world, from Alcatraz to the Devil's Island and more, includes an interactive map of the most notorious jails of the world.