About Johannisburg Palace
Built by renowned architect Georg Ridinger between 1605 and 1614 in the Bavarian city of Aschaffenburg, Johannisburg Palace is one of the German Renaissance's most spectacular – and most important – examples of palace architecture. Forty-five kilometres east of Frankfurt overlooking the river Main, it was, until 1803, the residence of the archbishop-electors of Mainz and amongst other treasures Johannisburg Palace is home to the world´s largest collection of architectural models made of cork.
Save for a keep which Ridinger kept, a medieval castle on the site was burned to the ground by the troops of Albert Alcibiades, Margrave of Brandenburg-Kulmbach before construction of Schloss Johannisburg started. It was commissioned by Johann Schweikhard von Kromberg, the Archbishop of Mainz who paid for it via taxes from his fief.
The three storey palace is one of the few virtually symmetrical palace buildings of the German Renaissance and certainly the most impressive. After 1803 when the ecclesiastical princedoms stopped (known as mediatisation, or deutsche Mediatisierung) it served for a time as the summer residence of King Ludwig I who referred to it as his 'Bavarian Nice'.
The palace has been remodelled several times, most notably at the end of the 18th century by Emanuel Herigoyen in the Neoclassical style and also after it was nearly levelled by the Allies in WWII but thanks to near-perfect historical records, the two-decade rebuild was almost identical to the original, including using red sandstone from the same quarries.
Today, the palace is home to a series of small museums including a number of early German and Dutch paintings with a particular focus on works by Renaissance painter Lucas Cranach the Elder, widely considered to be the pre-eminent German artist of his time. The Palace Chapel features a stunning altar, pulpit and sculptures by Hans Juncker and there is a wonderful collection of German arts and handicrafts spanning six centuries.
Perhaps the most unusual collection of treasures at Johannisburg Palace is the world's largest collection of cork architectural models. There are 45 in total taking visitors on a tour of ancient Rome and they were built by court confectioner Carl May and his son Georg between 1792 and 1853. The models include the Pantheon, the Colosseum, the arches of Titus, Septimus Severus and Constantine as well as the Porta Maggiore and the Pyramid of Cestius.
The Palace Gardens are exquisite with columns of chestnut trees and an idealised Roman villa known as the Pompeiianum. It was commissioned by King Ludwig who was inspired by the excavations at Pompeii and contains Roman marble sculptures, bronzes and glasses from the State Antiquities Collection as well as temporary exhibitions.
Featured In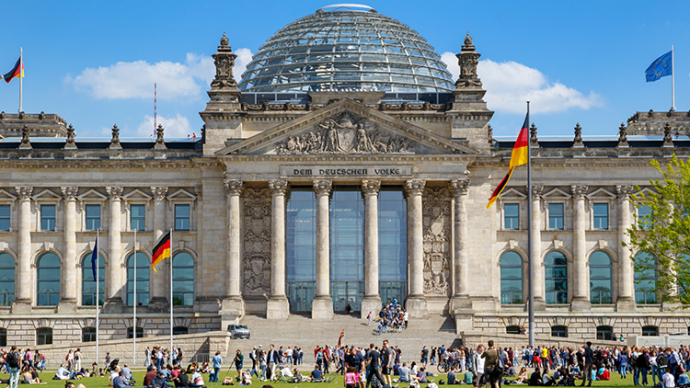 Discover the best Historic Sites in Germany, from the Brandenburg Gate to the Berlin Wall and more, includes an interactive map of German cultural places, landmarks and monuments.