About King's House on Schachen
Often referred to as a 'hunting lodge' although there's no evidence it was ever used as such, the King's House on Schachen was built in the Swiss chalet style between 1869 and 1872 by German architect Georg von Dollman for King Ludwig II.
The king wanted to enjoy the solitude (and vistas) of the high mountains and he couldn't have picked a better spot to do so. The Schachen alp is beneath Mount Dreitorspitze in the Wetterstein massif about 10km south of Garmisch-Partenkirchen and you will do very well to find a more jaw-droppingly beautiful view anywhere in the Bavarian Alps.
Given its position, the build was a struggle. The only road ended well below the intended site and all materials had to be lugged up the mountain by men and mules (including a two-ton bronze chandelier).
The five Swiss Pine wood-panelled rooms on the ground floor are surrounded by a central salon and are reminiscent of the villas built by the French upper-classes from the mid-19th to the beginning of the 20th century however the star of the interior show is upstairs.
The Turkish Room, sometimes known as the Moorish Room occupies the entire upper floor of the King's House. It's ostensibly based on Sultan Selim III's 18th century Palace of Eyüp in Istanbul after Ludwig saw it in a book in 1840 and it offers such an incredible contrast to the modesty of the exterior and the ground floor you could be forgiven for thinking you are in two different buildings.
You will be greeted by extravagant and richly-decorated oriental splendour with gilded walls, elaborate woven carpets and divans, luxurious candelabras, incense burners and big glass windows, all of which follow the trend of the west's fascination with the Orient. In the centre of the room is a stunningly-ornate fountain.
Thanks to the location and altitude of the King's House, the adjacent botanical garden created in 1901 cultivates around 1,500 species of Alpine plants and flowers (one of only seven to have survived from around 30 built in the Alps between 1865 and 1910) is a real treat.
The most important thing to know about the King's House on Schachen is not the house itself, the amazing Turkish-inspired room or the garden. It's how you get there. Whether you go via the Kälbersteig trail from Garmisch-Partenkirchen or you take the forest route up the Elmauer Forststraße, you're looking at a 3-4 hour uphill hike even for seasoned climbers to the King's House on Schachen but the exertion expended on the walk will be immediately forgotten when you see the views from the top.
Featured In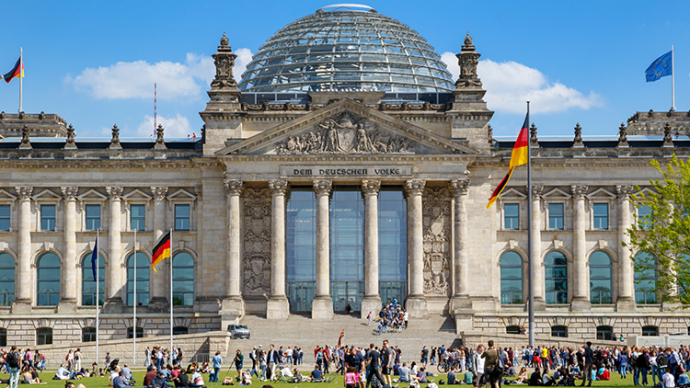 Discover the best Historic Sites in Germany, from the Brandenburg Gate to the Berlin Wall and more, includes an interactive map of German cultural places, landmarks and monuments.