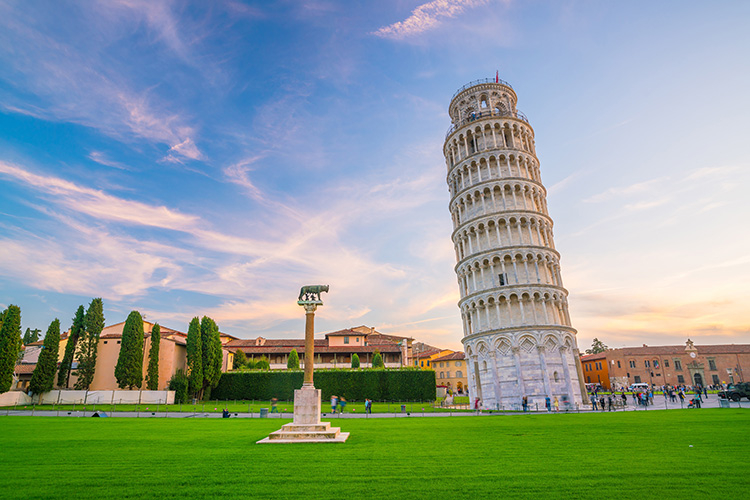 About Leaning Tower of Pisa
The Leaning Tower of Pisa, also known as the Tower of Pisa or 'Torre pendente di Pisa' in Italian, is one of the world's most famous buildings, particularly due to its leaning stance which leaves it forever appearing to be toppling over.
Originally construction of the Leaning Tower of Pisa was begun in 1174, with the intention of it being a freestanding bell tower for Pisa's cathedral. Located in the Field of Miracles or 'Campo del Miracoli', the tower began to lean very early on in its construction, apparently around the time of the construction of its third floor. The reason for the lean is that the ground on which it was built is sandy and unstable and the foundations used for the tower were insufficient to cope with this.
In 1185, a long period commenced in which construction of the Tower of Pisa ceased, the halt in progress usually being attributed to the fact that the Pisans were preoccupied with a succession of wars such as with Florence. Giovanni di Simone continued work on the tower in 1260 and, while there was a further pause in construction along the way, the Tower of Pisa was finally completed in 1360.
Since that time, the tower's lean continued to increase, leading to fears that it would indeed fulfil its promise to topple. However, following an extensive and highly complex project, the Leaning Tower of Pisa is now stable. Today, visitors can admire the ornate white marble structure and climb the 186 feet to the top of the Leaning Tower of Pisa up a staggering 300 steps.
Featured In
Discover the best Historic sites in Italy, from Ostia Antica to The Trevi Fountain and more, includes an interactive map of Italian cultural places, landmarks and monuments.