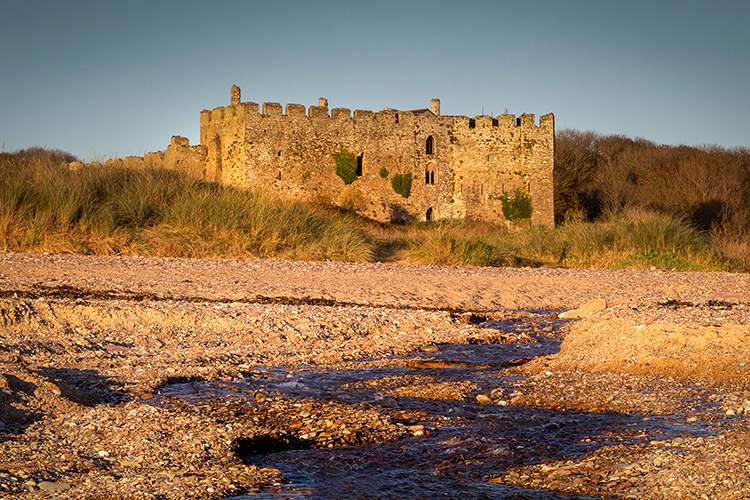 About Manorbier Castle
Nestled in a tranquil spot amidst the Welsh Countryside, Manorbier Castle is a pretty, partially-ruined Norman fortification which overlooks the scenic coastline.
The notable 12th century author and one-time resident of Manorbier, Gerald of Wales, may have been biased when he described the castle as "the pleasantest spot in Wales" – it was his grandfather Odo de Barri who first built Manorbier in the 11th century – yet the well preserved and impressive ruins set amongst a beautiful landscape are well worth a visit.
Odo de Barri was a Norman knight, who was granted land in Wales, including Manorbier, as reward for his assistance in conquering Pembrokeshire. Odo initially built a structure out of earth and timber, but this was replaced by his descendants with the stone structure that remains to this day.
The castle was owned by the de Barri's until eventually ending up in the hands of the monarchy before Queen Elizabeth sold what she described as a "ruinous" castle in 1630. J.R. Cobb, who was a tenant at Manorbier in the late 19th century, was responsible for much of the restoration work. The castle has largely avoided conflict in its history, suffering just two minor assaults. Richard de Barri stormed the castle in 1327 to reclaim his property, and the Parliamentarians also seized the castle during the English Civil War.
Today, Manorbier Castle is located in a beautifully unspoilt corner of Wales and sits atop a hill overlooking the beach. The beauty of Manorbier and its surroundings provide a contrast with its past – as Manorbier under the de Barris would have played an important role in subjugating the Welsh population after the Norman conquest.
Manorbier Castle itself is a basic rectangular-shaped Norman fortress with imposing corner towers, in addition to an impressive gatehouse, attractive gardens and a huge barn. Today, visitors can explore various stairs, towers, rooms and battlements and even the dungeons and hidden passageways which lurk under the fortress. There are also a number of historical displays and life size waxwork figures on display.
Contributed by Chris Reid
Featured In