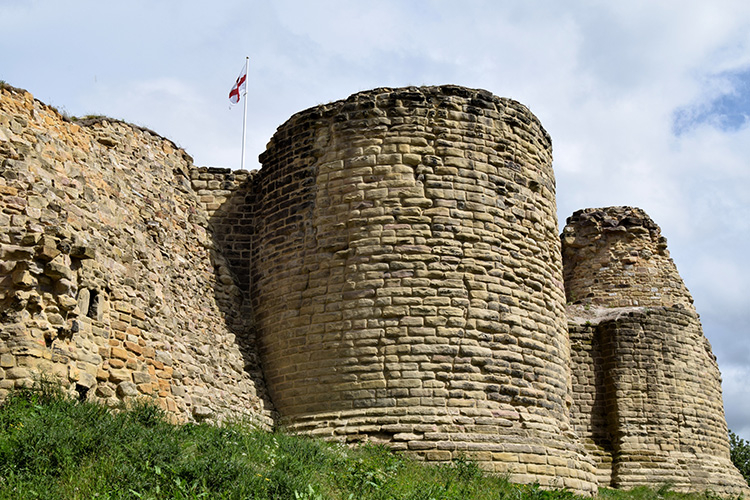 About Pontefract Castle
Pontefract Castle was a key strategic military stronghold in Northern England which played a crucial role in many of the country's most bitter conflicts for over five hundred years.
The land that now houses the remains of one of the most notorious castles in England was given to Ilbert de Lacy soon after the Norman Conquest of 1066AD. While not always finding themselves on the right side of the various power struggles of the period, the Lacy family by and large remained in residence at Pontefract, if sometimes as tenants of the King rather than owners.
During their tenure they continued to improve the castle, upgrading the original motte and bailey structure with a more permanent and larger military fortress which the famous king Edward I described as the "key to the north".
One of the most infamous moments in Pontefract Castle's history came in 1399, when Henry IV, a Lancastrian, used it to imprison and murder the deposed king Richard II. With the accession of the Lancastrians to the throne, Pontefract quickly began to hold a key position in the north of England, growing in size and importance whilst other castles nearby dwindled. Pontefract remained a Lancastrian stronghold during the Wars of the Roses.
Other notable events said to have taken place here include the surrender of the castle to the 'Pilgrimage of Grace' rebels – who rose up against Henry VIII – as well as being a setting for the infamous liaisons between Henry's fifth queen, Catherine Howard, and Thomas Culpeper.
During the English Civil War it was the last Royalist fortress to surrender and underwent numerous sieges until Parliament, more specifically Oliver Cromwell, ordered its demolition following Charles I's execution.
Pontefract has a history rife with famous prisoners – Richard II, James I of Scotland and Charles Duke of Orleans were all imprisoned at different times in one of the castle's many dungeons. When Edward II crushed his opposition, Thomas of Lancaster was executed here, and throughout the Wars of the Roses many rebels were put to death at the site.
Today Pontefract Castle hold but a shadow of its former glory. Parts of the original motte and bailey wall can still be seen, as can remnants of the chapel. Unfortunately nothing remains of the Great Hall except the cellars underneath.
One of the most fascinating aspects for visitors are the so-called 'Magazine Tours' which take people underground to view the castle's notorious cellars and dungeons, as well as the writing and names scratched onto the walls by the unfortunate prisoners.
Recent excavation at the castle has unearthed many English Civil War items, both domestic and military, from helmets and spurs to spoons and combs. They will eventually be house at the Pontefract Museum.
Contributed by Ros Gammie
Featured In