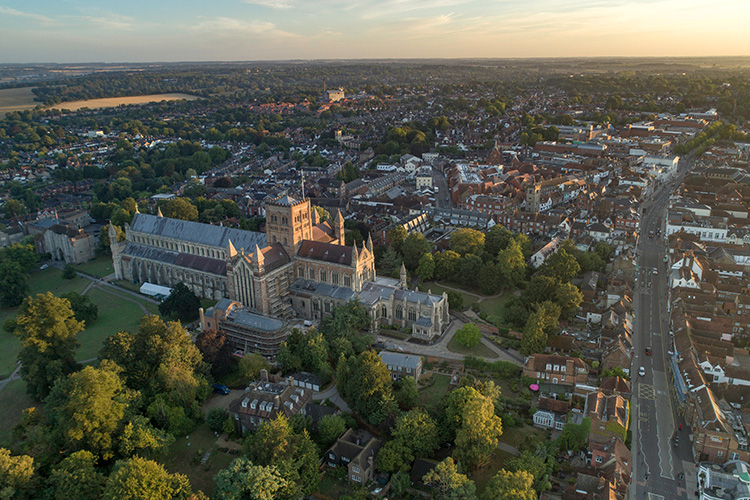 About St Albans
The town of St Albans has something for everyone. Originally a Celtic British settlement known as Verlamion, the town was conquered by the Romans and re-named Verulamium. Despite suffering great destruction during the revolt of Boudicca in 60-61AD, the town was re-built and became a thriving settlement.
St Albans has been witness to many key moments of English history, including part of the Peasants' Revolt of 1381. The city was also the site of two battles in the Wars of the Roses. A short history of the city can be found here.
There are historic Roman remains in St Albans, including those of an impressive Roman theatre. Excavations which took place in the 1930s revealed a wealth of additional evidence from the Roman town including a hypocaust, mosaic flooring and roman walls which can all be seen in Verulamium Park. Many Roman artifacts can be seen in Verulamium Museum. The park also boasts what is said to be one of England's oldest pubs, Ye Olde Fighting Cocks.
The impressive site of St Albans Cathedral contains the shrine of St Alban – a Roman convert to Christianity who became Britain's first martyr after he was executed for sheltering a Christian priest. The historic site has seen several incarnations – a Norman building replaced a Saxon monastery and even incorporated some Roman bricks which can still be seen in the building today. Significant restoration work was carried out in the nineteenth century by Gilbert Scott and Lord Grimthorpe.
There are a number of other attractions to see in the city and around the area, including a medieval clock tower and the de Havilland Aircraft Heritage Centre and Mosquito Museum. The Museum of St Albans on Hatfield Road tells the story of the medieval and Victorian history of the city and the social history of the area.
Featured In