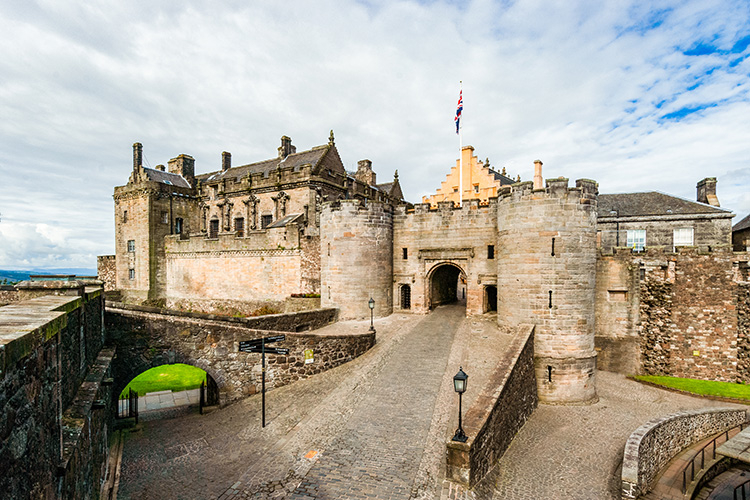 About Stirling Castle
Stirling Castle is an iconic royal palace and stronghold, seen to represent Scottish independence and a focal point for many of the most important events in Scotland's history.
Famous Events at Stirling Castle
It was the site of royal deaths such as that of King Alexander I in 1124 and William I in 1214, the subject of a tug of war between the English and the Scottish during the Wars of Scottish Independence and even the scene of an assassination. This latter event, the murder of William the eighth Earl of Douglas, occurred when he was invited to dinner there in 1452. A skeleton found at the castle in the eighteenth century is believed to have been his.
During the Wars of Scottish Independence, Stirling Castle was fought over by some of the most famous figures in Scottish and English history, including William Wallace and Robert the Bruce.
Royal events at Stirling Castle included the coronation of Mary Queen of Scots (1543) and the baptism of her son, James VI (1566), both at the Chapel Royal.
Strategic Location
At least part of the reason for the prominence of Stirling Castle over the centuries must be attributed to its location. Situated atop the flat top of an ancient volcano, it forms an imposing sight and a formidable stronghold. Furthermore, it is located at a vital strategic point at the centre of various routes across Scotland.
Architecture
The first mention of Stirling Castle dates to 1110, when Alexander I endowed a chapel there, but many believe the site has been fortified since prehistoric times (although this is disputed).
The current grand incarnation of Stirling Castle mostly dates from the fifteenth and sixteenth centuries onwards. Some of the highlights include the King's Old Building, constructed in 1496 for James IV, the Great Hall, which was medieval Scotland's largest banqueting hall built by James IV in the early sixteenth century and the Royal Palace, built by James V in around 1540.
One of the most well-known parts of Stirling Castle is its Forework Gate, a turreted stone fortification built by James IV in the early sixteenth century.
Visiting the castle
Today, Stirling Castle offers tours around its buildings and grounds. Visitors can tour with an audio guide or with a tour guide and there are a range of exhibitions to see. Not least of these is the Regimental Museum, a military museum dedicated to the Argyll
Featured In