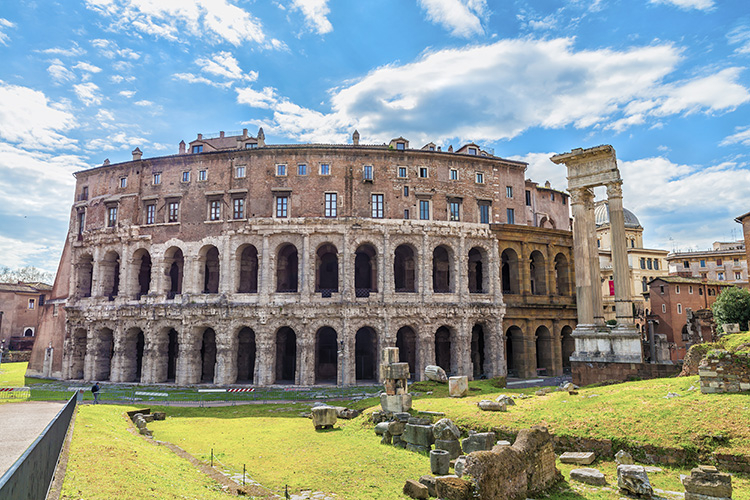 About Theatre of Marcellus
Though only partially preserved, the ruins of the Theatre of Marcellus in Rome are among the oldest remains of an ancient Roman theatre to have survived.
One of the most important ancient Roman public buildings, the Theatre of Marcellus was the brainchild of Julius Caesar himself, though the Roman dictator did not live to see its completion. In fact, after Caesar's assassination work on the theatre was halted and it was not until his great-nephew Augustus was in power that the work was completed in 13 BC.
According to the ancient historian Livy, the Theatre of Marcellus was constructed on the site of an earlier theatre, built by Marcus Aemilius Lepidus. The theatre was dedicated to Augustus's own nephew and heir, Marcus Claudius Marcellus, who died at a young age.
Built in a grand style, with three distinct columned levels, it is believed the Theatre of Marcellus could originally hold as many as 11,000 people. Throughout the Roman period the theatre survived in its original form, with occasional renovation, such as that provided by the Emperor Vespasian.
After the fall of the Empire however, the Theatre of Marcellus fell into decline and was slowly buried and robbed for its masonry. In the 13th century the theatre was converted into a fortress and its purpose was altered once again in the 16th century when it became the palace of the Savelli family.
In the 1920s the lower sections of the building were bought by Rome's city council and restored. Today, while the interior is not open to the public, the lower levels and striking architecture can be observed from the street. The upper levels still function as private apartments.
Featured In