About Eastern State Penitentiary
Over two hundred thousand visitors flock to Eastern State Penitentiary in the historic neighbourhood of Fairmount in Philadelphia, Pennsylvania every year to see one of the most historically-important buildings in the entire United States.
After the American Revolution in 1776, the newly-formed nation set out to provide an example to the world in terms of social development and this included prison reform. Eighteenth century prisons were little more than free-for-all holding pens but in 1787, the ambitiously-named Philadelphia Society for Alleviating the Miseries of Public Prisons proposed a radical, Quaker-inspired idea – 'to build a true penitentiary, a prison designed to create genuine regret and penitence in the criminal's heart.'
Designed by English-born architect John Haviland (for which he was paid $100) to resemble a church in a wagon-wheel design with each wing emanating from a central hub allowing the guards to see all seven wings. ESP was one of the first proponents of solitary confinement with the founding fathers believing that isolated incarceration led to 'reflection and ultimately penitence.'
It was so far ahead of its time it had central heating, running water and flush toilets before the White House. It was also, at the time, the largest and most expensive public building in the US.
At first, ESP held short-sentence criminals such as horse thieves and pickpockets but like most prisons of the time, it grew into a maximum security prison holding notable names such as infamous bank robber Willie Sutton and the King of the Underworld, Al Capone serving his first ever prison sentence who furnished his cell with antiques and oil paintings!
By the 1960s, the prison was in need of massive investment and 142 years after Charles Williams, prisoner #00001, was admitted, ESP closed its doors for good in 1971.
Today after nature's attempt to reclaim the land and the removal of hundreds of stray cats who made the abandoned prison home, it's a museum and tours include the cell blocks, Capone's cell, art installations and amazing stories of inmate escapes. There is also 'Terror Behind The Walls', a serious scarefest including Hollywood-style sets and 200 actors that's consistently ranked amongst the top haunted attractions in America.
Featured In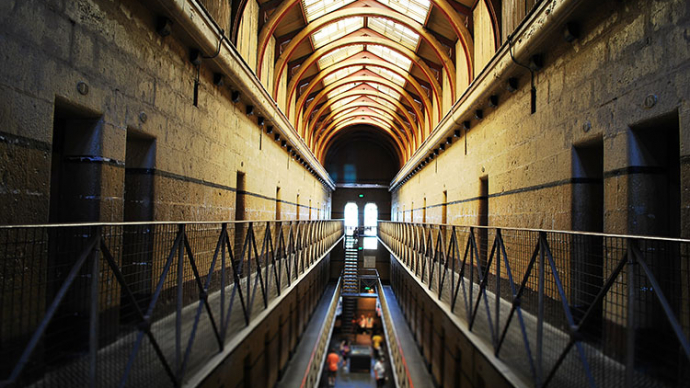 Discover the the most famous prisons in the world, from Alcatraz to the Devil's Island and more, includes an interactive map of the most notorious jails of the world.