The Victoria Cross is the highest award for bravery which can be awarded to British and Commonwealth soldiers. 182 VCs were awarded in the Second World War to soldiers, airmen and sailors who performed extraordinary acts of valour.
From climbing onto the wing of an aircraft in-flight, to fighting hand-to-hand with the enemy, their stories are inspiring.
Here are 10 Victoria Cross winners of World War Two:
1. Captain Charles Upham
Captain Charles Upham of the New Zealand Military Forces has the singular distinction of being the only soldier of the Second World War to receive the Victoria Cross twice. When informed of his first VC, his response was: "It's meant for the men".
During an attack in Crete in May 1941, he engaged an enemy machine-gun nest at close quarters with his pistol and grenades. He later crawled to within 15 yards of another machine-gun to kill the gunners, before carrying away his wounded men under fire. Later, he ambushed a force threatening Force Headquarters, shooting 22 enemies.
Over a year later, during the First Battle of El Alamein, Upham received his second Victoria Cross. Upham destroyed a German tank, several guns and vehicles with grenades, despite being shot through the elbow. Upham was imprisoned in Colditz after numerous escape attempts from other POW camps. 
2. Wing Commander Guy Gibson
On 16 May 1943 Wing Commander Guy Gibson led No. 617 Squadron in Operation Chastise, otherwise known as the Dam Busters Raid.
Using purpose-built 'bouncing bombs' developed by Barnes Wallis, 617 Squadron breached the Mohne and Edersee dams, causing flooding of the Ruhr and Eder valleys. Gibson's pilots expertly deployed bombs which avoided the heavy torpedo nets protecting the German dams. During the attacks, Gibson used his aircraft to draw anti-aircraft fire away from his fellow pilots.
3. Private Frank Partridge
On 24 July 1945, Private Frank Partridge of the Australian 8th Battalion attacked a Japanese post near Ratsua. After Partridge's section suffered heavy casualties, Partridge retrieved the section's Bren gun and began shooting at the nearest Japanese bunker.
Although wounded in the arm and leg, he rushed forward with only a grenade and knife. He silenced the Japanese machine-gun with his grenade and killed the remaining occupant of the bunker with his knife. Partridge was the youngest Australian to be awarded the Victoria Cross, and later became a television quiz champion.
4. Lieutenant-Commander Gerard Roope
Lieutenant-Commander Gerard Roope of the Royal Navy posthumously received the first Victoria Cross awarded in the Second World War. His award is one of very few to have been partly recommended by an enemy. On 8 April 1940, HMS Glowworm, commanded by Roope, successfully engaged two enemy destroyers.
When the destroyers retreated towards German capital ships, Roope pursued them. He came upon the German cruiser Admiral Hipper, a vastly superior warship, and his own destroyer was hit and set ablaze. Roope responded by ramming the enemy cruiser, gouging several holes in her hull.
HMS Glowworm scored a hit in its final salvo before she capsized and sank. Roope drowned in the course of rescuing his surviving men, who were picked up by the Germans. The German commander of the Admiral Hipper wrote to the British authorities, recommending Roope be awarded the Victoria Cross for his bravery.
5. 2nd Lieutenant Moana-Nui-a-Kiwa Ngarimu
On 26 March 1943, 2nd Lieutenant Moana-Nui-a-Kiwa Ngarimu of the 28th Maori Battalion was tasked with capturing a German-held hill in Tunisia. Ngarimu led his men through mortar and machine gun fire and was first to crest the hill. Personally destroying two machine gun posts, Ngarimu's attack forced the enemy to retreat.
Against fierce counter-attacks and mortar fire, Ngarimu fought hand-to-hand with the Germans. For the rest of the day and through the night, he rallied his men until only three remained.
Reinforcements arrived, but in the morning Ngarimu was killed while repelling a final counter-attack. The Victoria Cross that he was posthumously awarded was the first to be awarded to a Maori.
6. Major David Currie
On 18 August 1944 Major David Currie of the South Alberta Regiment, Canadian Army was ordered to capture the village of St. Lambert-sur-Dives in Normandy.
Currie's men entered the village and entrenched themselves, withstanding counter-attacks for two days. Currie's small mixed force destroyed 7 enemy tanks, 12 guns and 40 vehicles, and captured over 2,000 prisoners.
7. Sergeant James Ward
On 7 July 1941 Sergeant James Ward of No. 75 (NZ) Squadron was co-pilot on a Vickers Wellington bomber returning from an attack on Munster, Germany. His plane was attacked by a German night fighter, which damaged a fuel tank on the wing, causing a fire in the starboard engine.
Mid-flight, Sergeant Ward crawled out of the cockpit, ripping holes in the aircraft's wing with a fire axe to provide hand-holds. Despite the wind pressure, Ward successfully reached the fire and smothered the flames with a piece of canvas. The aircraft made a safe landing owing to his bravery and initiative.
8. Rifleman Tul Pun
On 23 June 1944, Rifleman Tul Pun of the 6th Gurkha Rifles took part in an attack on a railway bridge in Burma. After all other members of his section were wounded or killed, Pun charged an enemy bunker alone, killing 3 enemies and putting the rest to flight.
He captured 2 light machine guns and their ammunition, and supported the rest of his platoon with fire from the bunker. In addition to the Victoria Cross, Pun earned 10 other medals in his career, including the Burma Star. He attended the coronation of Queen Elizabeth II in 1953, and died in 2011.
9. Acting Leading Seaman Joseph Magennis
On 31 July 1945, Acting Leading Seaman Joseph Magennis of HMS XE3 was part of a submarine crew tasked with sinking a 10,000 ton Japanese cruiser. After Magennis' submarine was in place beneath the cruiser, he exited the diver's hatch and placed limpet mines onto its hull.
To attach the mines, Magennis had to hack at barnacles on its hull, and suffered from a leak in his oxygen mask. On withdrawing, his Lieutenant found one of the submarine's limpet carriers would not jettison.
Magennis exited the submarine in his diver's suit again and freed the limpet carrier after 7 minutes of nerve-wracking work. He was the only Northern Irishman to be awarded the Victoria Cross in the Second World War, and died in 1986.
10. 2nd Lieutenant Premindra Bhagat
On 31 January 1941, Second-Lieutenant Premindra Bhagat, Corps of Indian Engineers, led a section of a Field Company of Sappers and Miners in pursuit of enemy troops. For a period of 4 days and across 55 miles he led his men in clearing the road and adjacent areas of mines.
During this period, he himself detected and cleared 15 minefields of varying dimensions. On two occasions when his carrier was destroyed, and on another occasion when his section was ambushed, he carried on with his task.
He refused relief when worn out by fatigue, or when one eardrum was punctured by an explosion, on the grounds that he was now better qualified to continue his task. For his bravery and persistency over these 96 hours, Bhagat was awarded the Victoria Cross.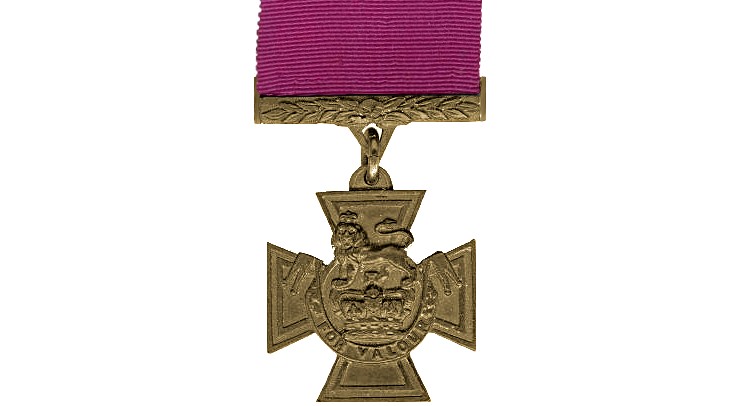 Featured Image at top: Major David Currie.