About Hall of Fame and Statue of Bavaria
Commissioned by King Ludwig I of Bavaria and designed and built from Kelheim limestone by Leo von Klenze, the Ruhmeshalle – Hall of Fame – is a Doric colonnade with a wide main range and two wings. It was built between 1843 and 1853 using ancient Greek architecture as inspiration and is 68-metres long by 38-metres deep.
Inside are over 90 busts of Bavaria's most celebrated people including artists, politicians and scientists as well as the Palatinate, Franconia and Swabia.
At the front of the Hall of fame stands Bavaria, an 18.5-metre high bronze statue designed by Ludwig Schwanthaler and cast by Ferdinand von Miller. It sits on a 9-metre platform and weighs close to 90 tons. She is vested in a bearskin holding in her left hand an oak crown and in her right hand a leash attached to a lion at her side – supposedly a symbol of Bavarian strength.
Her sheer size, scale, weight and intricate detail were hailed as a technological masterpiece when she was unveiled in the early 1850s.
There is a spiral staircase inside the statue which you can climb and look out over Munich's Theresienwiese, the location of the world-famous Oktoberfest.
Featured In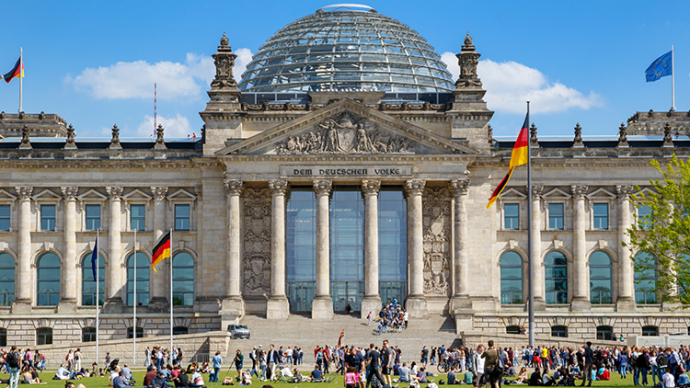 Discover the best Historic Sites in Germany, from the Brandenburg Gate to the Berlin Wall and more, includes an interactive map of German cultural places, landmarks and monuments.