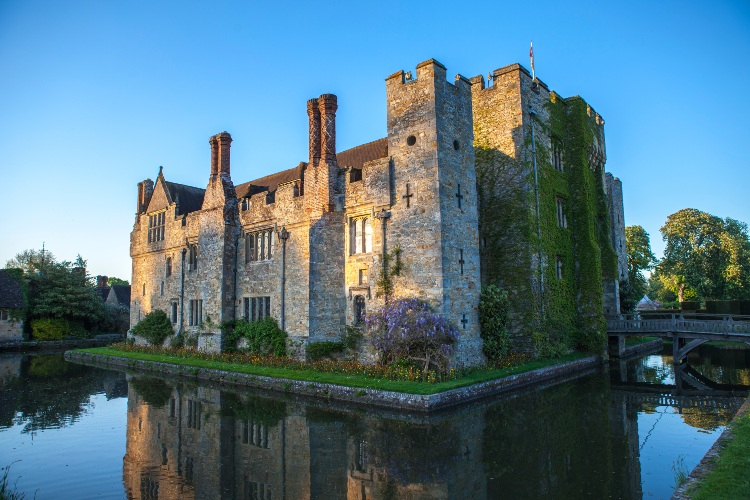 About Hever Castle
Hever Castle in Kent is a picturesque Tudor mansion famous for being the family home of Anne Boleyn, the ill-fated second wife of Henry VIII. Today it presents a stunning glimpse into the splendour of those close to the Tudor crown, and provides a personal look into the life of one of British history's most intriguing female figures.
Hever Castle history
Hever Castle was built in the 13th century as country house belonging to James Fiennes, 1st Baron Say and Sele, and first consisted of a large Hall and a number of surrounding outbuildings. In 1271, a license to 'crenellate it in the manner of a castle' was given, after which the eminent Gatehouse was constructed.
In the 14th century Hever was further crenellated during which time the walls, towers, moat, and Great Hall were constructed, before in 1462 it came into the possession of the Boleyn family. The Boleyns transformed it into a stunning Tudor residence and when in 1505 Thomas Boleyn inherited Hever, he further added to its splendour.
Thomas Boleyn and his wife Lady Elizabeth Howard raised their three children George, Mary, and Anne Boleyn at Hever Castle – all three of whom would grow to become central figures of the Tudor court.
Anne lived at Hever until 1513 when she was sent to the court of Archduchess Margaret in the Netherlands to refine her skills as a courtier, yet upon her return soon caught the eye of Henry VIII. Part of their courtship is thought to have taken place Hever, with the king often staying at the castle itself and at the nearby Penshurst Place.
In 1533 Henry shocked the country when he broke with the Catholic Church in order to divorce Catherine of Aragon and marry Anne Boleyn. He and Anne initially enjoyed a loving relationship, however after around 1,000 days as queen she fell from favour and was beheaded in 1536. Following this and her father's death in 1539, Hever Castle was given to Henry VIII's fifth wife Anne of Cleves as part of their annulment settlement.
In later years the castle passed through many different hands before in 1903 it was acquired by American-British millionaire William Waldorf Astor, who restored it to its former glory and adopted it as a family residence.
Hever Castle today
Today Hever Castle is a popular tourist attraction that tells the story of Anne Boleyn's life and her relationship with Henry VIII. A number of rooms may be explored throughout Hever Castle that each represent the elegance of the Tudor era and the wealth of its past inhabitants.
In the Book of Hours room two of Boleyn's personal prayer books are on display that both bear her signature, while in the Queens' Chamber an impressive collection of Tudor portraiture may be found. Portraits include that of Anne Boleyn, Jane Seymour, Anne of Cleves, Catherine Howard, and Catherine Parr, with Catherine of Aragon's also found in the Long Gallery.
The bedroom believed to have belonged to Boleyn may too be explored – with her bed also on display – as well as the room Henry VIII stayed in during their courtship.
Other features include the 13th century Gatehouse that houses the oldest working portcullis in England, while a number of mazes are also scattered throughout the grounds including a yew maze, water maze, and tower maze.
Getting to Hever Castle
Hever Castle is located 30 miles from central London and 3 miles southeast of Edenbridge off the B2026. It can be reached via Junction 10 of the M23, and is signposted from Junctions 5 and 6 of the M25. Parking at the site is free.
The nearest train station is Hever Station, a 20-minute rural walk to the site, while a 10-minute taxi may also be taken from Edenbridge Town Station.
Featured In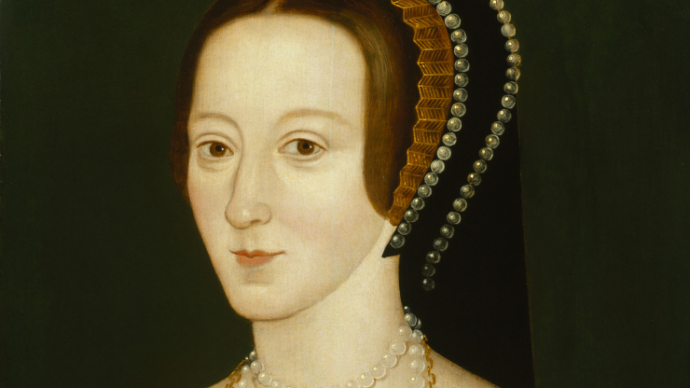 Discover 10 fascinating historic sites associated with Anne Boleyn, one of the most intriguing figures of the Tudor era. From her time at the French châteaus of the Loire Valley to her untimely end at the Tower of London, each site provides a piece of the story that has captivated audiences for over 500 years.