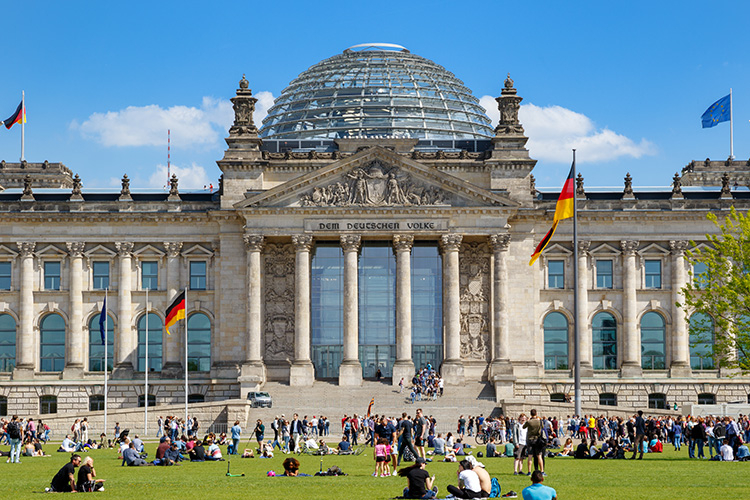 About Reichstag
The Reichstag Building started its life in 1894, when it served as the seat of the German Parliament, then known as the Reichstag. Designed by architect Paul Wallot during the reign of Emperor Wilhelm I, the Reichstag building contained several pioneering architectural elements, including a steel and glass copula which was the first of its kind.
Wilhelm I was succeeded by Wilhelm II by the time the Reichstag was completed in 1894 and, despite this new leader's opposition to the institute of parliament, the Reichstag survived his reign and was the site where the politician Philipp Scheidemann proclaimed the institution of the German Weimar Republic in 1918. It served as such until 1933, when a fire tore through it, damaging it severely.  However, it was the socio-political consequences of this latter event which would have the most lasting effects.
The ruling National Socialist German Workers Party, the Nazis, blamed the fire on communist Marinus van der Lubbe and used the incident as an excuse to carry out a purge of any perceived traitors as well as banning the Communist Party altogether.
The Reichstag was heavily bombed during the Second World War and emerged as a ruin, the effects of which were exacerbated by its neglect during the Cold War. Whilst parts of the original Reichstag building, including its famous copula, were destroyed, it once again took centre stage in world politics on 3 October 1990, when it was the venue of the German Reunification Ceremony.
Reconstruction of the Reichstag followed and was completed in April 1999. It now houses the current German parliament, the Bundestag, and also acts as one of Germany's most popular tourist attractions. Guided tours are available, but must be booked in writing well in advance.
Featured In