The Victorian age is measured by the life and reign of Queen Victoria, who was born on 24 May 1819 and would oversee a period on unparalleled magnificence and colour in British history, guided by the good sense (most of the time) and stability of her rule. Her death in 1901 ushered in a new century and a darker, more uncertain age.
Becoming heir to the throne
When she was born in 1819 Victoria was actually only fifth in line to the throne, after the four eldest sons of George III. She was the daughter of the youngest of these, the Duke of Kent – and the namesake of her German mother Victoria, though it should be added that her real first name was the slightly unfortunate Alexandrina (which she hated and dropped), in honour of her godfather Tsar Alexander of Russia.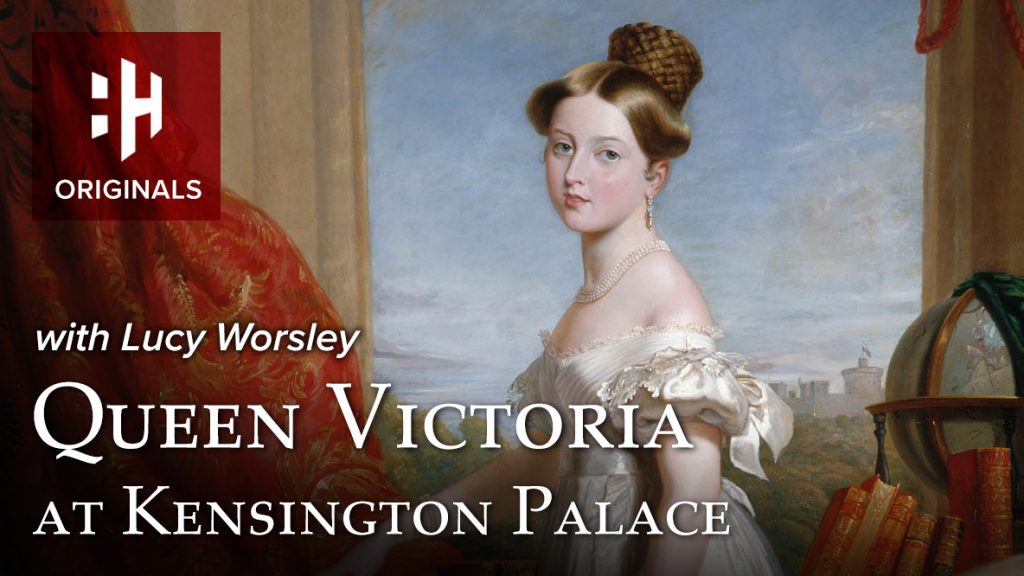 The following year, her grandfather the King and her father the Duke died in the same week, and over the next decade they were followed by all of those ahead of her in line for the throne, apart from George III's third son William.
After his own two daughters had died in infancy, William was forced to make his young niece heir to the throne and the growing British Empire.
As she was only eleven when she became heir to the ageing King, Victoria's childhood was overshadowed both by her new status in the spotlight and her controlling Mother, who was encouraged by her rumoured lover and accountant Sir John Conroy, who Victoria detested.
As a result, the teenage girl's days were spent sharing a room with her mother, learning foreign languages and mournfully playing with dolls alone – with access to potentially "undesirable" people her own age denied to her.
In the final years of William's reign, however, she began to accompany him on his tours around the countryside and there became a popular and celebrated figure. For decades Britain had been ruled by ageing childless and not particularly prepossessing men, and the young Victoria was seen as a breath of fresh air.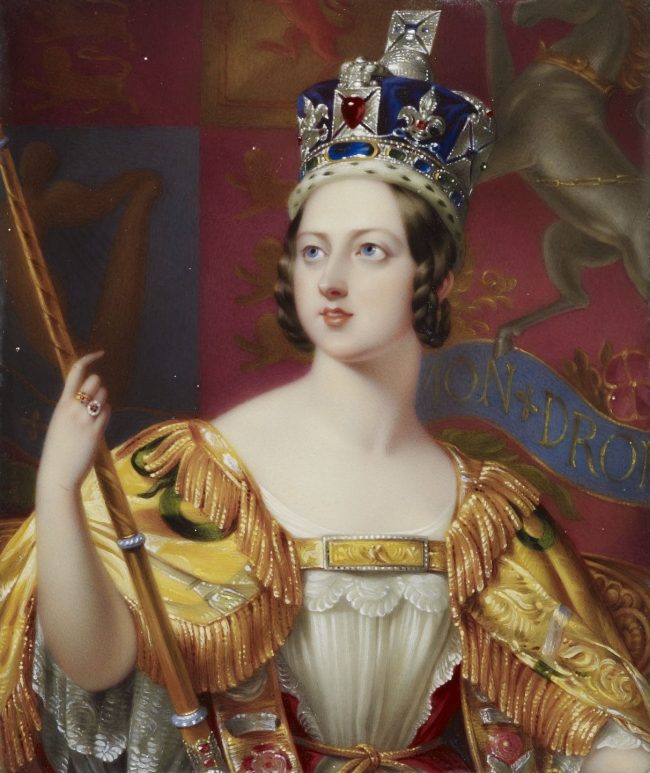 Queen Victoria
In 1837 she turned eighteen, which was important timing as it meant that she could rule directly, just weeks before William died at the age of 71.
Such inexperience compared to her predecessors could have been seen as a disadvantage, but she was lucky to receive a lot of advice and political influence from the liberal Lord Melbourne, the current Prime Minister.
As early as 1839 her desire to get involved politically was shown when Melbourne's government collapsed over an issue of punishing slave owners in Jamaica, and she refused to get rid of his preferred members of the royal household.
At the same time, she set about preserving the royal line by marrying her beloved Prince Albert, a German Prince who dominate her life even after his death in 1861. The two would have nine children, born between 1841 and 1857.
Another important event that occurred in 1840 was the first demonstration of the Queen's remarkable ability to survive assassination attempts after an 18-year old anarchist took two shots at her in her carriage and missed both times. It would be the first of 7, all of which she survived.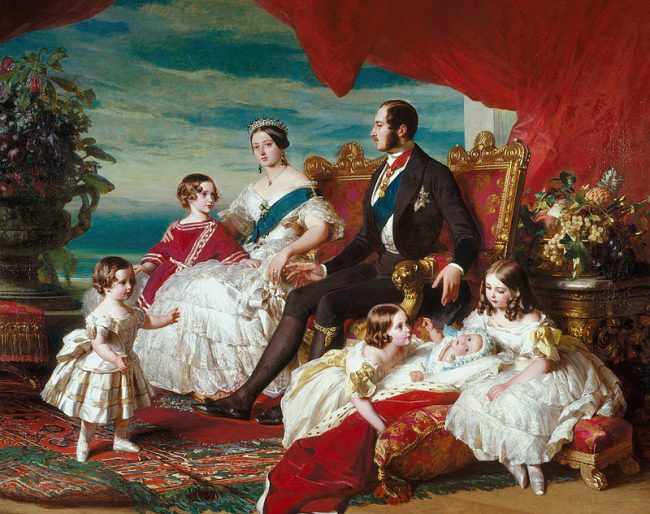 Helping guide Britain through tumultuous times
The next few decades of her reign were dominated by important events, both at home and overseas, including the Irish potato famine in 1845, the European revolutions in 1848 and the accession of Napoleon III as Emperor of France in 1851.
In these tumultuous times in European history, the Queen demanded to be kept in the know, and was often actively involved. Though the powers of the monarch were much diminished by the mid-19th century, this was still expected of them in a way that it would never be today.
She visited Ireland in 1849, built up relations with the new Napoleon, and had an important hand in choosing the new Prime Minister when the events of the Crimean War brought down Lord Derby's regime in 1855.
Shortly after her life entered its next stage due to two events. The first being the sending off of her eldest daughter to become Queen of Prussia (where she would one day give birth to Kaiser Wilhelm II, the antagonist of the First World War), and the second being Albert's death.
The gradual loss of her children and that of her closest partner and confidant sent her into the famous years of mourning in the 1860s, where she got very close to a Scottish manservant called John Brown in her grief, leading to all sorts of damaging rumours.
It was not until 1866, when the monarchy was in real trouble due to its absentee Queen, that she returned to her public duties at the state opening of Parliament. By 1870 however, her unpopularity had reached its most dangerous levels, encouraged by the recent restoration of a republic in France.
The near-fatal illness of her son and heir Edward, combined with yet another assassination attempt on her, went some way to restoring her popularity however, which remained high for the rest of her long reign.
"Empress of India"
In 1876, she transcended being Queen as she was given the title "Empress of India" – though this in no way made life any easier. She lost her daughter Alice on the anniversary of Albert's death, and threatened to abdicate five times in the late 1870s over her government's handling of the Russo-Turkish war in the east.
Now entering middle-age, she never re-married, but enjoyed the company of her favourite Prime Minister, the brilliant and flirtatious Benjamin Disraeli, enormously. She cried all night when he was replaced by the equally brilliant but much more stolid William Gladstone.
Once "Dizzy" was gone and her abdication had been firmly refused, life grew a little quieter. She spent a lot of time with her youngest and possibly favourite daughter Beatrice, and was wisely prevented from publishing a book in honour of John Brown when he died in 1883.
Whether or not any of the rumours about the pair were true has never been confirmed, but she was certainly buried with a picture of the Scotsman, and a lock of his hair.
His replacement in the last years of her life, after the superbly opulent Imperial golden jubilee celebrations in 1887, was an Indian Muslim – Abdul Karim – who would remain at her side for the rest of her life, though without the rumours of romance that had accompanied Brown.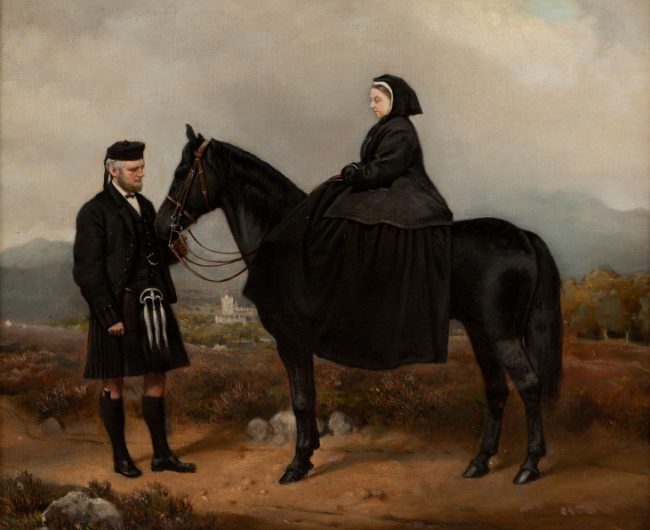 Later life
Still a liberal but by now more of a figurehead monarch as times changed, she felt powerless and angry about what her grandson was doing as Kaiser of Germany, despite the influence of her eldest daughter.
He was not invited to her diamond jubilee in 1897, which was kept within the British Empire's dominions, which had now reached a staggering size that made Victoria ruler of a quarter of the world's population.
As the benevolent matriarch of the Empire (and Europe through her children's dynastic marriages) she enjoyed enormous popularity in these last years of her life and reign.
She died quietly in January 1901, and was surpassed as the longest-reigning British monarch by Elizabeth II in 2015. Her longevity meant that she not only gave her name to and defined an age, but spanned it too.
The granddaughter of the man who lost the American colonies and the grandmother of the loser of World War One, she owned the 19th century.