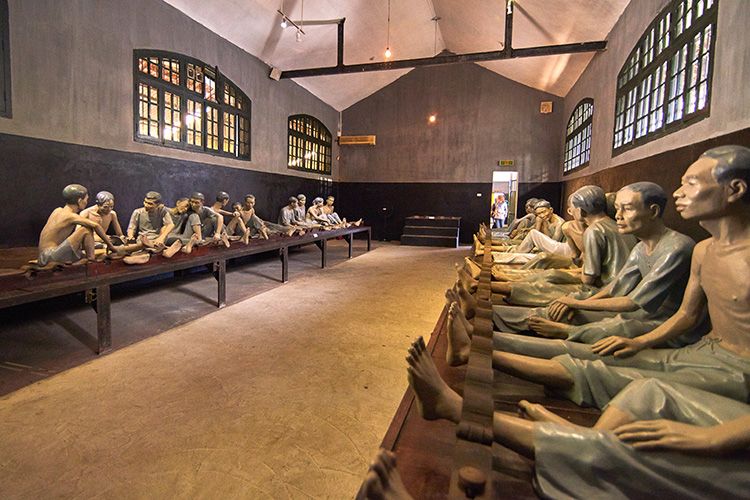 About Hoa Lo Prison
Built in stages between 1886 and 1901 in downtown Hanoi by the French (when Vietnam was still French Indochina), Hỏa Lò Prison – translated as 'fiery furnace' or 'Hell's hole' – was a place of incomprehensible brutality.
Prisoners were shackled by one leg, unable to walk or even stand up; many were kept in tiny, damp, dark and filthy solitary confinement cells and were subject to arbitrary physical and mental torture including rope torture, beatings and deprivation of basic human rights like sleep and food.
Originally intended for 450 inmates (but by the 1950s was home to over 2,000), Hỏa Lò went through three distinct periods.
During the colonial French era, it was known, as all urban French prisons were, as 'Maison Centrale' – Central House – and was intended to hold Vietnamese political prisoners who were agitating for independence, many of whom were subsequently tortured and executed. Inmates were kept in what has been described as 'subhuman conditions' but because of the central location, street peddlers could make extra money by tossing opium and tobacco as well as messages over the walls.
After the French suffered their unexpected, blunder-laden and hugely shameful defeat at Dien Bien Phu in May 1954, Vietnam was divided into North and South at the 17th Parallel and Hỏa Lò served as an education centre for revolutionary doctrine and activity. Then came the Vietnam War.
The first US prisoner arrived at Hỏa Lò in August 1964 and until 1973, almost 600 American POWs were interred here, including future Republican presidential nominee John McCain. The nickname 'Hanoi Hilton' was sarcastically coined – their treatment was horrific and brutal and breached the Geneva Convention to which Vietnam was a signatory – although North Vietnamese propaganda suggested they were treated excellently and the Hanoi Hilton nickname was because it was like a hotel. It wasn't.
They were interrogated, tortured, chained, beaten and kept in tiny solitary confinement cells but by the early 80s when the Americans had left, the prison's usefulness was coming to an end.
Save for the small southern section, the prison was demolished in the mid-1990s and today, the museum focuses predominantly on the French colonial era and has been described as a 'bare-knuckles recreation of destitution'. See a gruesome array of chains, shackles, the guillotine and other torture instruments, the cells and the iron doors that were built and shipped over from France.
Featured In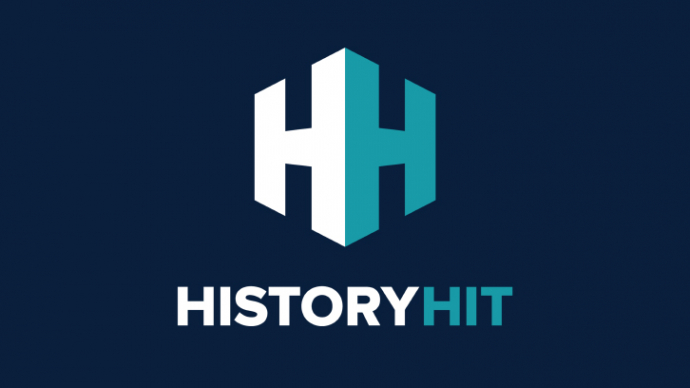 Discover the best Historic Sites in Vietnam, from Hoa Lo Prison to Ho Chi Minh Mausoleum and more, includes interactive Vietnamese cultural places, landmarks and monuments map.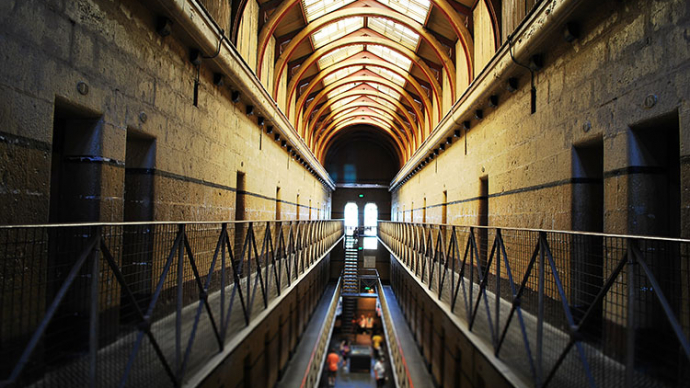 Discover the the most famous prisons in the world, from Alcatraz to the Devil's Island and more, includes an interactive map of the most notorious jails of the world.